Acroprint ET/ETC Heavy Duty Document Stamps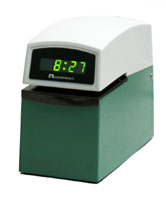 These durable time and date stamps are used by businesses worldwide and are suitable for any business environment.
ET and ETC at a glance:
Dependable - A reliable, quality-designed motor provides the highest accuracy
Tough - The E-line stamps' heavy-duty construction withstands harsh environments and thousands of print registrations per day
Adjustible - Easy print control adjustments allows for multi-copy printing
Precise - Electronicaly controlled printing assures clean instant registration. Precision typewheels deliver a sharp, clean imprint to penetrate multiple mcopies
Widmer N-3 Numbering Machine
A very fast and efficient method of numbering invoices, purchase orders and documents of all types. Eliminates the need for pre-numbered forms, and is very versatile and economical way to control your paperwork flow
The insertion of the paper activates the trigger for split second stamping. A new, open throat allows greater accessibility, documents of letter size or small tickets may be inserted with ease. The trigger can be adjusted to allow a selection of imprint locations. Another important feature- the stamping blow can be increased to penetrate forms, also pressure sensitive carbonless forms.
The Model N-3 has 6 print head wheels. Consecutive action will advance with each stamping. Available with either consecutive, duplicate, triplicate, or quadruplicate action (but not a combination of these) - any combination of number, leter and dash wheels up to 11 wheels. (Wheels in excess of 6 numbers must be activated manually).