Guard Tour System by RFID (Proximity)
Strong, reliable and easy to use
A Guard Tour System enables verification and accountability of a guard's movement providing the location, time and date stamp.
Non Contact: The significant advantage of ProxiGuard, a RFID syatem, is the non contact and the non line of sight nature. Cards can be read under water and through all the above substances. We now have a New RFID Tag for Metal Surfaces. Just Peel and Apply.

Convenient: Can be installed in multiple ways.

Checkpoints: Can be hidden in walls preventing tampering and no need to use expensive brackets

Intrinscially Safe: Can be installed in potentially explosive athmospheres
SOFTWARE
The ProxiGuard Patrol Management System works on Windows-based PCs. It is used for the processing, verification, display, and nprintout of guard tour data obtined from the Guard Tour readers.
It has the following main features:
Intelligently designed for easy, Fool-Proof Operations:
Automatically completes tasks such as communicating with the readers, timeclock adjustment, data upload, data download, intelligent data identification, patrol plan verification, data verification, exceptions handling, etc. It is very easy to setup and use.
Multiple User Configurable Reports:
Several reports to choose from: BASIC REPORT, FREQUENCY REPORT, PATROL DETAILS, and MAP REPORT (Graphical report). All reports can be either viewed on the screen, printed, emailed to MS Excell, or Pdf.
Automatic Verification System:
Automatic Data Backup and Data Archiving:
PG-ID30MT "New" RFID Tag for Metal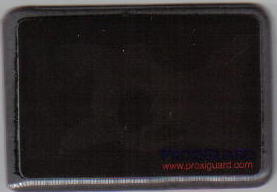 Just Peel On Metal - 1/3/4" x 1-1/4" x 1-1/16"