All perforators are electric and heavy duty
Model 400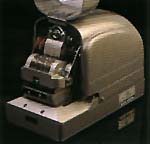 Model 400 -
Our most popular portable electric perforator has changeable dates and/or numbers on the second line, while the first and third lines can be used for up to 9-10 fixed characters or digits including spaces. The Model 400 can be ordered with one, two, or three lines for perforation.
Model 410

Model 410 -
Our multi-purpose Model 410 features unlimited applications with its versatile *select-a-word line. (*Only the first line has this capability) With each custom-made "matrix-key" the word above the date can easily be changed. Also available with one, two, and three line perforation, its unlimited variety of uses makes the Model 410 a valuable asset for any business with multiple needs for perforation.
Note:
Both the Model 400 & 410 are just basic configurations. All our numbering and dating machines are custom built to order and stemfrom these 2 versions. The main difference between these 2 basic models, is the capability of the Model 410 to utilize a changeable TOP line.